Welcome to DRC Publishing
Offering a wide selection of books to satisfy any book-lover!

Ray Johnson
Ray Johnson, a member of the well known comedic trio, Buddy Wasisname and the Other Fellers, has now added the title of author to his accomplishments. Ray's latest book is The Titanic: a Catastrophe That Should Not Have Been, which includes new information about the ill-fated ship and a list of passengers and crew who were aboard when it sank. Earlier books by Ray are ..And I Owe It All to Bridget and John, the story of his adoptive parents and his growing up in Job's Cove; I Know That Voice, which features rural NL songs, recitations, accordion and fiddle tunes, and includes a CD with Ray singing favourites like Fishin' in a Dory. There is also a children's book entitled Sarah, a colloborative effort by writer Jean Edwards Stacey and children's author/illustrator which was inspired by Ray who suggested the well loved song could be turned into a book.
Latest From Our Blog
Welcome to our newly constructed website. Check us out and see all our great titles.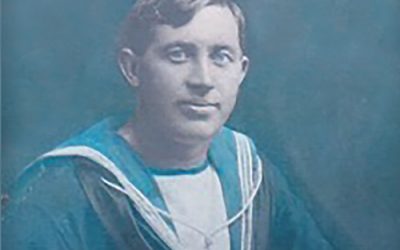 Archer Peddle was 20 years old and fishing in Labrador with his father and brothers when the First World War broke out in August 1914. As a member of the Newfoundland Royal Naval Reserve, Archer was immediately recalled to HMS Calypso in St. John's. Within...
Veronica Connors, Natalie Finlay and Florence Strang are coaches, healers, spiritual teachers and educators who wrote the beautiful book entitled Soul Steps: 52 Ways to Reconnect with Spirit because they want to convey what is working for them and their clients, knowing that it may also work for you, the reader of this book. In one short year, they say, they will walk you through 52 weekly soul exercises, because it's in the doing of your soul work- the daily practice- where change happens. Their hope and prayer is that Soul Steps will bring awareness to the areas in which the reader seeks guidance and change, and that it can be one of the tools for spiritual awakening and empowerment. Sonia Choquette, bestselling author of The Answer is Simple, says "Soul Steps is a beautifully written guide for your spiritual journey. Whether new to the process of self-exploration or an advanced seeker, there is a soul message here for you. Let your journey to spiritual discovery and empowerment begin with Soul Steps."