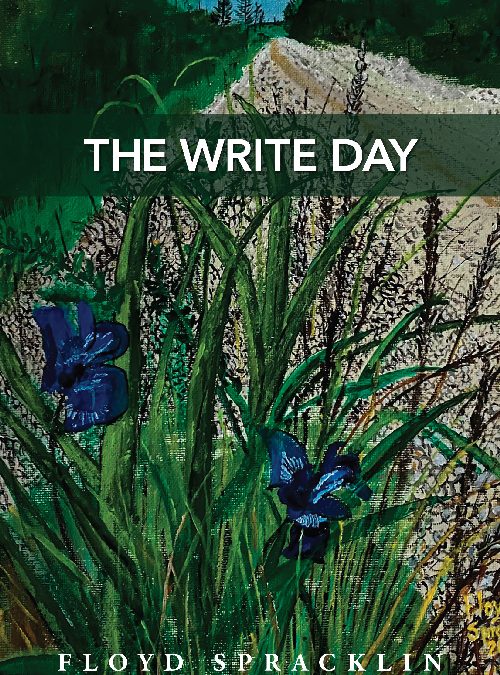 "When I decided to leap from journalist to creative writer, I bought books about the craft. There are a lot of good ones out there, many by well known, best-selling authors. I did not find any books about writing and written by local authors. Until now. But let's not pigeonhole this work. The Write Day is more than a how-to. This is a book about listening to the people around you. It's about respecting the past and looking toward the future.
There's an honest, straightforward Q and A with the author. Wise words about starting small and thinking big. We learn what inspired Floyd. About rejection. Thesis writing. Fiction and non-fiction. We meet Inuit carvers. Enter the village of Hopedale where Floyd spent 18 months teaching Adult Basic Education. Through his eyes, the Northern Lights come alive. We attend community festivals and learn about Night of the Nalujuit.
Floyd brings his world to life. He includes us in his growing up years. We sit in his classrooms… Floyd writes simply and sufficiently how he came to the craft, what he knows about it now, and how it's done. What struck me about this book is how he handles language. He cares about us as writers. He cares about telling stories on paper. There is no pretension in these pages. The writing is honest, accessible, and relatable. You may not know the people in this book, but I believe you will know people like them. You may not live these experiences, but you will recognize them." (Excerpt of foreword by Connie Boland, award-winning freelance journalist and creative writer.)
Floyd himself says, "The Write Day is a composite of many written pieces from an ongoing portfolio which encompasses some of my earliest work to where I am now and even to where I may be down the road." Included here are Finding Mike, about a moose hunting trip that went awry, The Black Silhouette, about tree stand bear hunting, and stories passed down through Floyd's family such as The Henry Herbert, The Embroidery Story and By Way of Brigus, his father's account of growing up in Brigus.